A paradise in Europe. The French Riviera has long attracted celebrities, the rich and famous, filmmakers, and the most important people of the decade. The French Riviera is loved in the world of fashion, so much so that the region has developed its own fashion style. Developed in the 1950s, the French Riviera style has remained the same since then. Cropped trousers, basket bags, Breton stripes, straw boaters, sunglasses, and light clothes all make up the French Riviera style, which is still to this day the unofficial dress code for the rich and famous. The French Riviera style was made famous by four celebrities: Grace Kelly, Jane Fonda, Jane Birkin, and Kate Moss. Here we will look at 2 famous celebrities over the years, their lives and how they influenced the French Riviera style.
Grace Kelly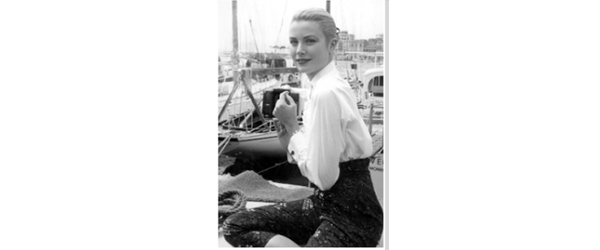 (The Cropped Pant, credit to Harpers Bazaar:
https://www.harpersbazaar.com/fashion/g5613
/french-riviera-fashion-photos/)
Born in 1924, Grace Kelly was an American film actress and at one point considered the most attractive woman in the world, who later would become the Princess of Monaco by marrying Prince Rainier III in 1956.
Known as one of the biggest celebrities around the 1950s-60s and with her legacy still felt in the fashion industry today, it's curious to discover that Grace Kelly only appeared in 6 major films in her career. By the 4th, she became a global superstar.
In her first role in "Fourteen Hours", she was given the role of an extra and was only on screen for a mere 2 minutes. Her next film, High Noon, she was given a bigger role as the wife of a troubled sheriff, played by Gary Cooper. Mogambo was her third film, giving her the role of the wife of an anthropologist (Donald Sinden). By her fourth film, playing the role of Jane in Clark Gable's Tarzan, she had reached worldwide fame and celebrity status.
Her celebrity status was ingrained in her last two films, directed by the great Alfred Hitchcock. "Dial M for Murder, Rear Window and To Catch a Thief" all presented Grace Kelly as a uniquely talented actress – ladylike, fiery and autonomous. After 6 films, an Academy Award and the star-like celebrity status, Grace Kelly left it all behind, marrying into European royalty and becoming Princess Grace of Monaco, forever tying her legacy to the French Riviera.
Modern designers and fashion labels, such as Tommy Hilfiger and Zac Posen, have quoted her as being an inspirational figure and Forbes magazine included Grace Kelly in their Top 10 Fashion Icons due to her sophisticated style of femenine dresses and tailored ensembles.
OAP Property #1 – Villa Canoubwest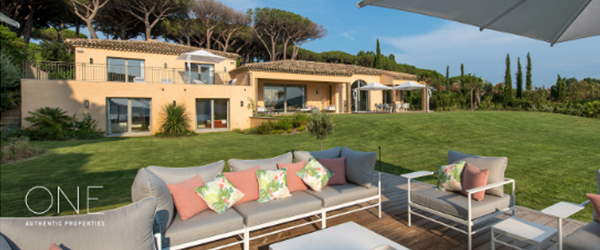 Another exclusive feature of the French Riviera is its luxury real estate, and our portfolio here at OAP is no different. Take our exclusive Villa Canoubwest: it is ONE Authentic Properties' compelling new 6-bedroom property, a grand Mediterranean masterpiece seated in 8,000 square meters of stunning landscaped gardens. Located in an exclusive residential area of St Tropez, this expansive property has direct access to the sea and a breathtaking 20m heated infinity pool. Its rolling emerald lawns are perfectly bordered with Mediterranean planting, palms, pines, and bougainvillea. This property is perfect for fashion and advertising shoots.
Jane Fonda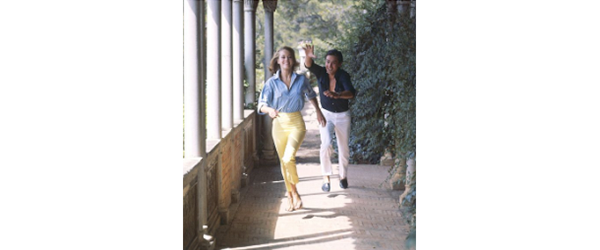 (The Cropped Top, 1963 credit:
https://www.harpersbazaar.com/fashion
/g5613/french-riviera-fashion-photos/)
Jane Fonda is an American actress, activist and former fashion model. She rose to the status of celebrity in the 1960s with films such as Period of Adjustment, Sunday in New York, Cat Ballou, and Barbarella. She later married the director of Barbarella, Roger Vadim; her first husband.
Jane Fonda began her career in theatre in the late 1950s after a brief stint as a model and starring on the cover of Vogue. Throughout the 1960s, she managed to average two films a year – her first being Tall Story, where she played the role of a cheerleader chasing a basketball star. Interestingly, the famous actor Robert Redford also made his first appearance in that film.
In 1962, Period of Adjustment and Walk on the Wild Side began to show and develop her skills as an actress. The latter film, in which she played the role of a prostitute, awarded her with a Golden Globe for the Most Promising Newcomer. She wasn't without critics, however, with the Harvard Lampoon naming her the "Year's Worst Actress" that same year. Jane Fonda's real breakthrough came with the critically acclaimed Cat Ballou (1965) in which she played a school nerd turned rebel with Lee Marving, the hired gun, to blame. This Western comedy received 5 Oscar nominations, no small feat for a small budget movie.
The film was considered one of the top 10 nominations at the box office and is often considered as the film that brought Jane Fonda to hold the status she does today. While the film received possible recognition, Fonda's performance was noted and praised. The later science fiction spoof,  Barbarella, cemented Jane Fonda's position as a sex symbol. But it was not just about looks; the film "They Shoot Horses, Don't They?" won Fonda her critical award, and signalled the rise or the established star that we all know today.