There are very few places in the world like the French Riviera. Located in the South of France an area of outstanding natural beauty, jaw-dropping scenery and a climate that's hard to beat. Celebrities and stars from across the world have been spotted on its sunny shores and the region has over the years developed its own distinct fashion style. Here we will cover two fashion stars who left their mark on the world of fashion as well as the French Riviera Style: Jane Birkin and Kate Moss.
Jane Birkin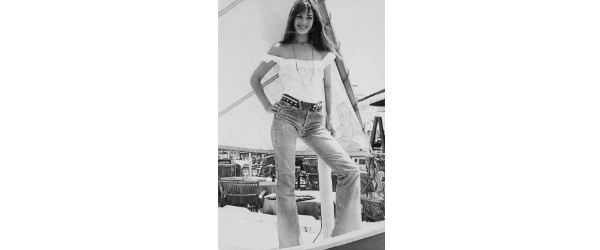 The Flares (1973 credit to: https://www.vogue.fr/fashion-culture
/fashion-exhibitions/articles/vintage-image-of-the-weekend-jane-birkin-in-1973/63944)
Jane Birkin, is an English actress, singer and model. She rose to international fame from her musical and romantic partnership with Serge Gainsbourg as a star of British and French cinema.
A London native, Birkin began her stellar career as an actress, with appearances in minor roles such as Blowup (1966) and Kaleidoscope (1966). While working on the film Slogan, Jane Birkin met actor and musician Serge Gainsbourg in 1968, the beginning of the duo's lasting relationship; both professional and personal. With the release of their 1969 album Jane Birkin/Serge Gainsbourg, Birkin later appeared in Je t'aime moi non plus, a film which furthered Birkin's acting career but was filled with controversy. Birkin rose as a fashion icon in 1973 when she sported flared trousers to her wardrobe while holidaying in the French Riviera.
The 1980s began with Birkin and Gainsbourg separating, with Birkin continuing to work as an actress and a singer, making an appearance in several independent films and solo albums. Birkin appeared in the 1991 TV mini-series Red Fox, as well as a 1998 American drama film A Soldier's Daughter Never Cries. Her final film, La Femme et le TGV,  was nominated for an academy award and won several other smaller film awards.
Alongside her contributions to the French Rivera style, Birkin will stay in the memory of most by lending her name to the exclusive and luxurious Hermes Birkin bag. With its most expensive reaching $500,000, Birkin bags have become a status symbol and have been sported by many contemporary celebrities such as Kylie Jenner, Lady Gaga, and Victoria Beckham to name but a few.
OAP Property #2 – Water's Edge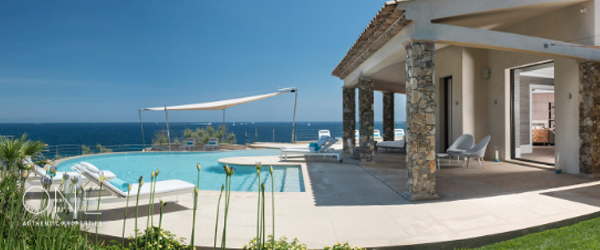 The French Riviera is one of the world's most desirable locations for luxury properties. Here at OAP, our portfolio of prestigious villas is no different. Here is our new waterfront property in St Tropez, Water's Edge.
Crafted to the highest of standards by our team of internationally renowned architects and designers. The exclusive Villa Water's Edge is located in Saint Tropez's most prestigious private domain, Les Parcs, and is complete with a designer kitchen, bespoke furniture and fine art. This alluring and entrancing villa is designed with only the most luxurious of materials and boasts extensive covered terraces, breathtaking views, a heated infinity swimming pool, direct access to the sea, and state of the art security. A perfect property for creative shoots and filming.
Kate Moss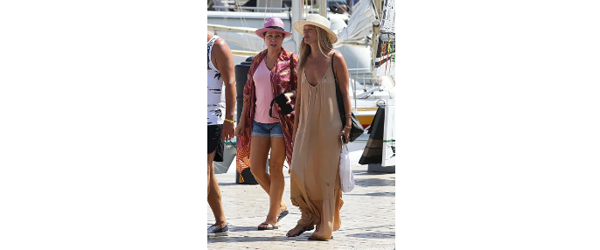 (Kate Moss 2009 credit:
https://www.vogue.co.uk/article
/kate-moss-holiday-wardrobe-st-tropez)
Kate Moss is an English model and fashion entrepreneur. Her career began to rise at the end of the supermodel era, in the mid-1990s through the trend of the "heroin chic". Her collaborations with Calvin Klein launched her into the fashion icon she is today.
Known for her part in size zero fashion, Kate Moss was scouted as a model in 1988 in New York at age 14. She began her rise to fame with "The 3rd Summer of Love" collection shot by Corinne Day. Moss hit the fashion scene as an unknown and drew connotations to a grunge style of fashion. Her campaign with Levi's titled 'Levi's for Girls' was again shot by Corinne Day and was very successful in garnering more media attention.
Her rise to fame was in distinct contrast to other supermodels of the 1990s, with names such as Cindy Crawford, Elle Macpherson, Claudia Schiffer and Naomi Campbell, supermodels known for their curvy and tall figures. On the other hand, Moss featured in the fashion look of heroin chic in 1996, with a campaign for Calvin Klein. The fashion campaign drew many critics, prompting questions in the media over her perceived weight with many political figures such as Bill Clinton speaking out against the trend, with Moss defying her critics.
Moss has featured in multiple ad campaigns with Chanel, Balenciaga, Burberry, Dior, Gucci, Calvin Klein and many more, as well as being on the cover for most high-profile fashion magazines, such as British, US, and French Vogue (and other international editions), Harper's Bazaar, Vanity Fair, and many others. She has appeared on the cover of British Vogue a total of 30 times, and currently holds an editorial position at the magazine. Alongside modelling, Moss has also been the star of Loreal campaigns as well as the launch of Rimmel London Mascara.
Over the years, Kate Moss won several accolades for modelling. In 2007, Time named her in their top 100 most influential people in the 2013 British Fashion Awards for recognition of her contribution to fashion over her career.